I specialize in
IT consulting
and
G Suite
(formerly Google Apps). I'm an authorized
Google Cloud Partner
(formerly Google Apps Authorized Reseller), and I run
Jak na IT
("How To Do IT"), a website with guides for smarter ways to get things done on computers, phones, and the Web.
I also worked for 18 years at ZONER software. I began as a developer, then led my team, and ultimately spent 4 years as the technical director of the Software Division. I helped give birth to many of its products, including the company's flagship product – Zoner Photo Studio. After those 18 years I decided it was time for a change, and now I'm a freelancer.
I love process management
I really hate mistakes. When I do somenthing repeatedly I try to describe and automate it. If someone can accomplish the task better, faster or cheaper, the best solution is to delegate this task. Thus I really love process management and together with Dan Dimitrov and Robert Vlach founded Procesoid – the world's simplest app for straight process management.

Personal
I live in the city of Brno. I'm the father of two smart and beautiful daughters, and I'm a very happy man. I ride to work on my bicycle. Sometimes I'm a compulsive writer, and it shows on my personal blog. Other times, I take pictures. I also team up with my daughters Klárka and Eliška to publish the Hravá snídaně (Playful Breakfast) blog.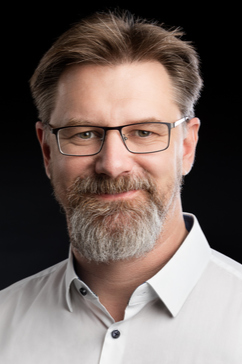 Professional Successes and Milestones
2018
The number of Procesoid's users grew 36 % in the 3rd quarter, a total of 400 % in last 12 months.
Together with Robert and Daniel we started a new blog about process management – Straight Process.
I renewed Google Cloud Partner status in January (evaluation is mandatory each year) and added a new cerification Google for Education Partner.
2017
2016
2015
Dan, Robert, and I have launched Procesoid – a web process management application for companies, teams, and independent professionals
I passed my exam to become a Google Apps Certified Deployment Specialist.
I won 3rd place in the South Moravian region's 2015 Self-employed Person of the Year contest (you can see my presentation to the jury in this video).
I earned two Google Apps certifications: Product Essentials Exam for Sales Reps and Google for Work Marketing Specialist.
The freelancing web portal Na volné noze filmed a video interview with me How's Business for the IT and Google Apps Expert Paul Minar.
I gave the lecture "Smart Apps That Will Save and Organize Your Time" for talented students at the conference Soft Skills, No Bullshit.
I wrote the article The Ten Commandments of Personal IT Security – an overview of computer users "transgressions".
I gave a Google Apps training at Raiffeisen Bank Romania (project team, internal trainers, board).
2014
2013
I became a Google for Work Partner (formerly Google Apps Authorised Reseller).
The blog of preventive healthcare expert and dietitian Margit Slimáková published an interview with me about Hravá snídaně.
I launched Jak na IT, a website with smart guides for computers, phones, and the Web.
This was the year in which I began organizing open courses for Google Apps.
Over the summer I trained 400 "Google Guides" (users from companies switching to Google Apps who help their fellow employees with migration).
Czech radio recorded a segment on Hravá snídaně.
Cooperation with netmail as an external Google Apps trainer. In this year I trained teams in companies such as Česká spořitelna, Kofola and Economia.
Head organizer at Google I/O Extended 2013 in Brno.
In the spirit of "there's more to life than just work," I joined up with my daughter Klárka to found Hravá snídaně.
At a Project management conference, I gave a presentation on the topic "Zoner Photo Studio – From Chaos to Order".
2012
My article How to Find a Stolen Phone accelerated my career as a freelance IT consultant (I acquired several jobs securing phones against theft and providing security for corporate data stored on mobile devices).
netmail selected me to be their external Google Apps trainer.
After 18 years at Zoner Software I decided for a change and began freelancing. I continued cooperation with the firm as an external project manager, running the Zoner Photo Studio project.
2012–1994, employment at Zoner Software
2008 – promoted to technical director of the Software division.
2002 – became the head of the development team for Zoner Photo Studio.
1997 – became head of development for Zoner Draw.
1994 – began employment at Zoner Software as a programmer.
What Can I Do for You?
I solve computer problems for individuals and companies. I help companies to introduce Google Apps into their workplaces.